If you display your jewelry on cards it can be challenging finding just the right display options for optimal visibility. I display my dichroic glass jewelry on my business cards and I use glass cases for the shops I sell in. I had tried laying cloth in the glass cube with rocks to prop the cards against. Didn't work very well as the cards kept falling over and the number of cards was limited. After messing around with the rocks my husband and I came up with a DIY jewelry card display that has worked great and allowed me to display more jewelry in the glass cubes.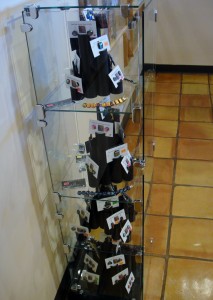 To make the "do it yourself" displays we used 1.25 inch PVC pipe, PVC cleaner and glue and black spray paint. My husband also has a table saw and compound miter saw which he used for cutting the pipe. He cut the pipe in lengths of 2, 4, 6, 8 and 10 inches with the compound miter saw and made a 10 degree angle cut on the top edge of each piece with the table saw. The angle cut is needed to hold the card without it tipping forward. We played with arranging the PVC pieces in groupings to be viewed from the front or from 3 sides or from all sides. It is also important to be sure the cards don't interfere with each other when they are inserted in the angle cuts. Once we decided on a workable grouping the pipes were marked, cleaned with the PVC cleaner and then PVC glue was applied. The PVC is then pushed together and held for a short time so it sticks. Once all the pieces were stuck together they were left to dry for several hours. Our last step was to spray paint the display with a flat black Krylon. I found out the hard way that the paint scratches easily on the plastic PVC so be sure to wrap your displays with bubble wrap or some other protective wrap to keep it looking good when you take it from place to place.
It was a fun project coming up with interesting functional designs for the dichroic glass jewelry displays.